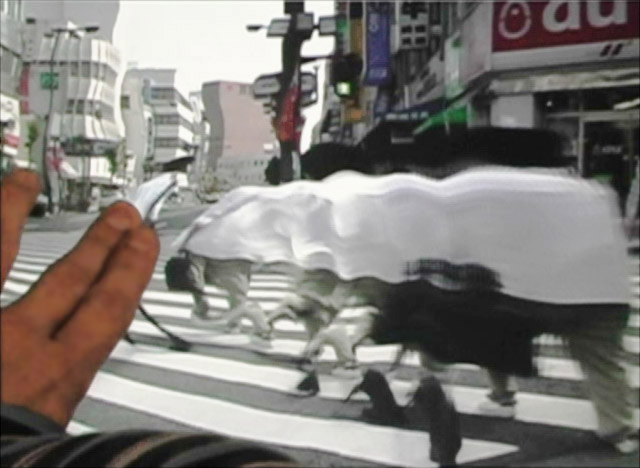 Alvaro Cassinelli, Khronos Projector (2005)
One of the pioneering festivals of this kind both in Asia and internationally, Microwave International Media Arts Festival will be held in Hong Kong from Nov 4th to 15th. The festival is approaching its 10th anniversary. The theme of this year is "Animatronica", exploring the nature of animated images through the form of animation and surveillance devices. Prominent artists from all over the world are invited to present their brilliant artworks to the public throughout various programs, i.e. the keynote conference and main exhibition. Inevitably, they are going to share how they merge technology and arts into their works.
The exhibition of "Animatronica"will be constructed as a technological laboratory where the public is invited to engage, participate and experiment. Featuring international media artists, including Rafael Lozano-Hemmer (Canada), Max Kazemzadeh (USA), Philip Worthington (UK), Camille Utterback (USA), Alvaro Cassinelli (Uruguay), Jin-Yo Mok (Korea) and more. With all these innovative artworks installed, viewers are encouraged to explore the different themes of each interactively.
Are you aware of how much surveillance and monitoring devices around you nowadays? But will they look less malice as they are now? The renowned artist Rafael Lozano-Hemmer is going to present it with a different note. His artwork "Surface Tension", focusing on the motion of the passer-by, having the interactive modules made of animated photos which react to the movements of the public through a video-based tracking system. Another side of the camera-capturing world is about to unleash. Remember how we cast shadows over the wall by hands when we were kids? Sharing the similar idea, Philip Worthington's "Shadow Monster" will show us how to turn a shadow into magical monster through sound and animation, creating a phenomenal virtual dimension as well as some crazy jigsaws of the widest imagination. Have you ever thought of interfering time and space with your own bare hands? Alvaro Cassinell's "Khronos Projector" is going to reveal a mysterious layer, offering us an experience to twist around the facts in a real time basis.
In addition to the artworks mentioned above, there are lots of other interactive artworks blending the artistic concepts and cutting edge technology in order to bring a brand new spectrum of fun to the participants.
Moreover, the festival will feature "X-D Animation Award 2006 Prize Presentation and Showcase", "Strategies of Interactivities in Media Arts & Visual Culture: Conference", Screening program (Tribute to the Father of Video Arts Nam June Paik) with special recture as well as a series of artist workshops and talks. Please check the website for each schedule and more details.
Microwave International New Media Art Festival 2006
Date: November 4th - 15th, 2006
Place: Hong Kong City Hall
Address: 5 Edinburgh Place, Central, Hong Kong
Tel: 27342900
Email: info@microwavefest.net