RealMan, the Surveillance Reality Manipulator, explores the notions of authenticity and effectiveness of surveillance and its ubiquitous presence in modern society. The video installation consists of a MIDI control keyboard and an image display. The user plays the keys and manipulates in real-time the surveillance space, choosing who and what can be seen at will.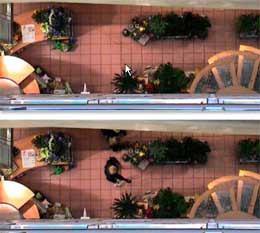 The scene can be composed and the activities of 'real' people in the space can be directed with the simple application of a piano key. Each keyboard key triggers a particular video clip to be superimposed into the space. These clips are 'sprites', unique characters extracted from the surveilled space and layered onto the background.
This experience is designed to forcefully translate the voyeuristic all-seeing eyes of the camera onto those of the viewer and to illustrate the imprecision of the reality filtered through a technological medium.
More details in the PDF.
By Greg Judelman. Also by the artist: the Company Keeper.