Although the Magic Lantern was invented in Europe during the second half of the 17th century, it influenced the emergence of 18th century Japan known as Utsushi-e. Utsushi-e was an original hybrid of the ancient Asian shadow play and the Western Magic Lantern show. In Utsushi-e, instead of merely projecting series of pre-fabricated images on a screen, artists created 'motion pictures' via a mixture of live art, light manipulation, narration and painted images. Artists built upon audience response; an interaction developed between the two.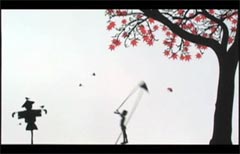 Takashi's Seasons is a sequential live shadow puppet/video performance in which various scenes interpreting the four seasons are performed by a modern Utsushi-e artist.
This piece intends to evoke personal memories that are strongly tied to the four seasons, interpreted through a Japanese cultural perspective. Through the presented vignettes, this piece brings back those personal memories, presenting them as a unified experience.
Video (hi-res video can also be downloaded from the webpage).
A work by Takashi Kawashima, in collaboration with Togo Kida and Yoshimasa Niwa. Have a look at some of Takashi's other works: Open the Blind and The King Has.
More puppets: Digital Wayang, MIDI controller sock puppet, Mr. Punch, HandySinger, Instant clay animation, Sock Puppet Theatre, Virtual Puppeteers, Paper puppets, etc.