The Steam Powered Internet Machine, by Turner-prizewinning artist Jeremy Deller and his collaborator Alan Kane, links a steam engine to a computer, allowing visitors to surf the net, powered by one of the driving forces of the Industrial Age.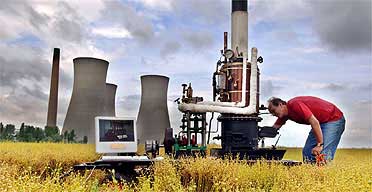 "We were thinking about something that connects the industrial revolution and the digital revolution," said Deller.
Although impractical, the machine does work. "We like inverting economics," added Kane. "This is a very uneconomic way of having a portable computer."
The artists explained that the current era - when it is possible to have travelled by steam train as a child and be surfing the internet now - calls to mind JMW Turner's The Fighting Temeraire, which marks the moment when the sailing ships gave way to steam. "We're at a certain point in British history, at the end of something," said Deller.
The Steam Powered Internet Machine can be seen at the Kent County Show, Detling, July 14-16 and the Queen Elizabeth Queen Mother Hospital Summer Fete, Margate, August 5.
Via The Guardian.