BlackBox is a new media art exhibition within ARCO, Madrid's contemporary art fair. Here's what i found about it in the Spanish press:

Eduardo Kac received the Arco-Beep award for electronic art for Time Capsule. In 1997, the artist inserted a microchip with an identification number into his ankle in front of photographs taken of family members during the 1930's in Europe. He then registered himself via the Web in a database designed for identification and recovery of lost animals, making it the first instance of a human being added to the database.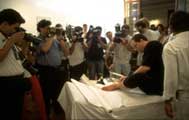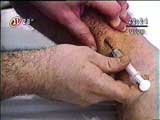 In the offArco category dedicated to the media art works that were not present at Arco, the winners of the awards are: Ricardo Iglesias and Gerald Kogler for Independent Robotic Community. Special mention to Miguel Angel Martin's net-art work Skking.exe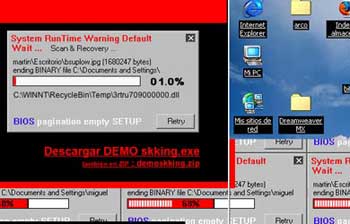 "skking.exe is small application to ease the life of today's employee.
Download skking.exe and a fake System RunTime Warning Default notice. It will pop up above your screen and will progress in loop for an unlimited period, prviding the employee with a wonderful excuse to sneak out of the office for as long as s/he wishes because of a computer probelm.
Each euro lost by the company will be summed up and shown on a webpage."
Daniel Canogar's Photosynthetic Rememberance 1 is the sculpture of a huge tree made of fiber optic and plastic fallen on the floor that embodies the paradox between environmental destruction by humans and technological re-construction. Canogar inverted metaphorically the photosynthesis processus. In the installation, it's the tree itself that emits the light and projects digital images of green leaves on an ondulating screen.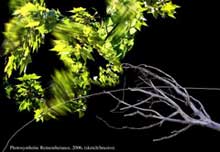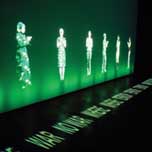 In the video installation by Shilpa Gupta, viewers can interact with video loops of a row of young women dressed in camouflage fashion outfits. Clicking on each figure triggers different movements, such as marching, squatting, jumping and spoken phrases like "don t interrupt", "shut up and eat", "I belong to you," etc. The work explores issues of control and fear, reflecting on the position of young middle class Indian women. The concept for the piece was sparked by her observation that camouflage clothing had become hip since the war on terror began (via realitmearts; other works by the artist: My Own Label and Your Kidney Supermarket.)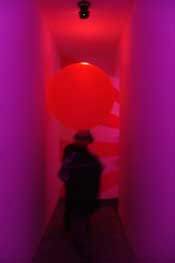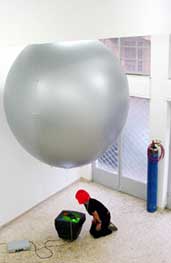 Jenny Marketou's Flying Spy Potatoes : Mission 21 st Street, NYC discusses theories of surveillance and control. Surveillance cameras attached to inflated weather helium balloons (5 feet diameter) wander about the space and transmit on the internet the images they capure.
With zII/edition, Herwig Weiser recycled destroyed computers, low-tech ­electronic equipment, magnets, and chemical composites to make a musical instruments.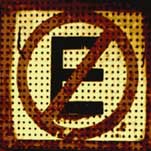 net.art was represented by Arcángel Constantini's No/E.html presents 100 graphic interpretations of the sign "No Estacionars" and Cory Arcangel was showing his versions of video games iconography (tetris, Super Mario Bros.) [....]