The Passion.Room, by Fabrice Coniglio and Andrea raViola from ConiglioViola, is an installation for VJing: the shooting and editing are done in real time inside the huge inflatable rabbit and visitors are invited to participate to the passion-themed performance.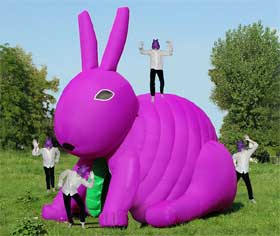 The inside of the rabbit's belly hosts masks, accessories and costumes and is totally green: using the chroma key system, whatever happens inside the Coniglio will be filmed, mixed (mixer video + laptop), edited, added on a surreal background and sent to the video projectors.
To be enjoyed at the XII Biennial of Young Artists from Europe and the Mediterranean - Naples 2005 till September 28. Via random and exibart.