The Knitting Map is a fabric art and technology project that aims to take the pulse of the city of Cork (Ireland) during 2005 and translate that information into a live knitting map.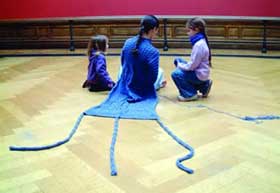 Above the earth there is a satellite which looks down at Cork (Ireland) and watches the movements of people and cars around the city. Down in the hub, small cameras watch the city in detail and meteorological equipment tastes the weather. All of the data coming needs to be distilled into two simple numbers: one representing stitch (pattern) and the other colour.
There are 25 knitters, so information must be varied slightly between each knitter to give the overall textile a more subtle and complex hue.
Knitters work in relay, the strips sewn together to form a single vast document of the city. Before each of them, a small digital screen details the next few lines of knitting and they lean forward to advance the pattern. During the day, people arrive to view the installation.
By performance company half/angel.