Make A Baby, by Lucky Dragons, is an ongoing series of experiments into the possibilities of using skin contact between performers as a means of transmitting and controlling data and creating a positive social environment.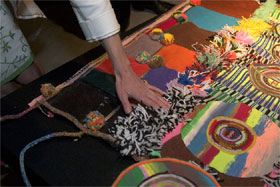 Using a knit and applique rug with woven circuits as the touch controller, audience members are invited to participate, building up and breaking down resistive networks by 'passing' signals from skin to skin. Measured changes in these networks are used to play a series of software instruments, allowing for spontaneous bands of touchers to crystallize and disperse all over the place, at once, over and over.
Lucky Dragons - Make a Baby
October 7, 2005 8pm
Machine Project, Los Angeles.