Fernando Llanos has built [vi video] a wearable projection system that allows him to screen videos in any context: an endless kiss on the walls and the bodies of a prostitution area, images of plane accidents on the facade of an airport, real people over the silhouette of a classical sculpture. The system is made of a camera, 2 decks miniDVs, a computer, a projector and batteries.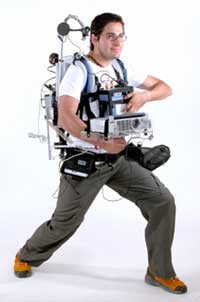 The artist is at the V Bienal do Mercosul, Porto Alegre, Brasil, through December 4.
Images.
Via Ad*e*e/sinapsis.