---
Dates:
Thu Jan 24, 2008 00:00 - Fri Jan 11, 2008
---
Location:
United States of America

---
Fine Arts Center Galleries, University of Rhode Island
invites you and your friends to the exhibition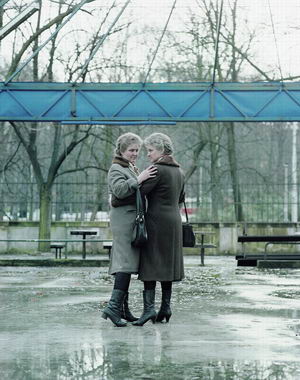 CLOSE ENCOUNTERS:
Central European Video Art
(from the Czech and Slovak Republics, Poland and Hungary)
Guest Curated by Viera Levitt
Main Gallery, Fine Arts Center Galleries
University of Rhode Island, 105 Upper College Rd, Kingston
January 24 - February 10, 2008
Artists: Pavlina Fichta Cierna (b. 1967, Slovakia), Milena Dopitova (b. 1963, Czech Republic), Hajnal Nemeth (b. 1972, Hungary, lives and works in Berlin), Katerina Seda (b. 1977, Czech Republic), Artur Zmijewski (b. 1966, Poland)
& Historic Kingston Train Station, Amtrak Waiting Room
January 16 - February 10
Artist: Pavel Mrkus (b. 1970, Czech Republic)
Public Closing Reception with Remarks by the Curator: Sunday, February 10th 2 - 4 pm
The Fine Arts Center Galleries at the University of Rhode Island presents a video art program dedicated to contemporary works created by five prominent Central European artists. In this exhibition, Guest curator Viera Levitt, attempting to find themes within the art of this region that are deeply human and capable of resonating with the American public, has emphasized stories of vulnerability and fragility.
An innovative part of this exhibition is the showing of the video work "Seagull" (2005, 4 min.) by Pavel Mrkus, in the Historic Kingston Train Station, Amtrak Waiting Room, beginning January 16. Partners of this complementary program are the Friends of the Kingston Station and Amtrak. A Program Guide accompanies the exhibitions at both sites.
Complementing the video exhibition, the Corridor Gallery showcases Staged Photographs by a leading photographer from the Slovak Republic, Pavel Pecha (January 28 - February 28, 2008).
The video exhibition is guest curated by Independent Curator Viera Levitt (formerly Jancekova). She is a native Slovak who moved to Rhode Island two years ago. From 1997-2005 Viera Levitt was director/curator of the contemporary art showcase, Jan Koniarek Gallery, located in the historic town of Trnava. She was the youngest director ever in a public art museum in the Slovak Republic. Levitt has curated or co-curated more than 30 exhibitions in Slovakia, the Czech Republic, Germany, Austria, Luxembourg and the USA.
Special thanks
In New York: Apexart, Czech Center, Hungarian Cultural Institute, Anne Arden McDonald, Polish Institute, and Steven Rand; in Rhode Island: Jo-Ann Conklin, David Winton Bell Gallery, Brown University, Courthouse Center for the Arts, West Kingston, Friends of Kingston Station, Kingston, and Mini Grant, The Rhode Island Foundation, Providence
More information and the press release:
http://www.uri.edu/artgalleries
Reviewers: To download images for press purposes or the pdf version of the poster, please visit
http://www.vieralevitt.org/uri.htm
. You can also reach the curator at
vieralevitt@gmail.com
Main Gallery, Fine Arts Center Galleries University of Rhode Island, 105 Upper College Rd, Kingston
Phone: 874.2775. Gallery hours are T-F, 12 noon - 4 pm & Sat. - Sun., 1:00 - 4:00 pm; Corridor Gallery hours are daily, 9 am - 9 pm.
To arrange group tours please contact us at 401.874.9628 or
facgalls@etal.uri.edu
Historic Kingston Train Station's Amtrak Waiting Room is open daily during train service.
---
---
---
Dates:
Thu Apr 12, 2007 00:00 - Thu Apr 12, 2007
---
Multiplace - Network Culture Festival
Brno, Prague (Czech Republic), Budapest (Hungary), Kielce (Poland), Cluj (Romania), Bratislava, Kosice, Trnava, Zilina (Slovak Republic), Providence (Rhode Island, USA) and Internet
April 13 - April 22, 2007
http://www.multiplace.sk
Multiplace is a network of people and independent organizations interested in the interaction between media, technology, the arts, culture and society. Activities of this network culminates this year in the sixth annual festival that take place between April 13 and April 22, 2007, in 10 cities and 6 countries simultaneously.
There are around 70 different projects organized around the framework of the festival - workshops, installations, discussions, concerts, performances, exhibitions, presentations, screenings, streaming or parties, and also live streaming from different locations through the internet.
This year's new definition, Network Culture Festival replaces, "new media" because it more accurately defines the festival's emphasis on networking collaborations and related inspiring possibilities. Since the festival is an open structure, there in no exact number of events and thanks to the "floating" part of the program called "Jump Into the Network", it is open to your participation.
Jump into the Network is an interactive part of the program. You can join, via the Internet, a series of psycho-geographical games created by the Rumanian Association AltArt, take part of one of the workshops, bring your old computer to be recycled, or offer your talkative parrot for Internet discussion. In both Bratislava and Brno, there are also platforms for the realization of your own projects.
Program selection
In Bratislava, there is a festival Infocentre at A4 - Zero Space with information and daily public events. Young designers in their Open Design Studio present work on topics like collaborative design, DIY magazines and give you personal advice about your visual communication. You can also take part in discussions about the state of the internet in Slovakia, or about phenomena like web2 or Second Life. A4 also features screenings, hardware workshops, as well as evenings of the international music festival, "Unsound on Tour Across Borders", that will also stop in Brno and Prague.
Additionally, in Bratislava, there is the opportunity to see the video installations of Nora Ruzickova in the 13m3 Gallery and to visit artists' studios and design studios such as OST-960 (of artist Erik Binder), STUPIDesign and Kamikadze. There are screenings of films awarded Prix Ars Electronica and YouTube, Machinima films, concert by the Polish experimental sound group Karbido in Kosice and Zilina. In Trnava, there are lectures connecting science and art, talks on non-conventional music and video presentations.
In Brno, there is another Festival Infocentre and concerts at the Faculty of Visual Arts at the Technical University, as well as workshops, discussions, live presentations, a radio show, video installation, parties, 'chill out', and open platforms for your creativity.
Visitors in Budapest will have the opportunity to see a screening of films related to architecture, as well as presentations of VJs, Polish Kiecle presents light sensitive installation and video screening and in Providence, (Rhode Island, USA) the RISD Museum offers screenings of New Central European video art.
There is also a couple of "matches" going on - in the radio space between Czech and Slovak radios, and between different young artists from various "competing" art schools taking part on billboards.
We are looking forward to meeting you at Multiplace, in real or virtual word.
MULTIPLACE 2007: people, machines, design, music, video, software, workshops, exhibitions, visits and more.
Jump into the network of art and creativity!
----
Viera Levitt, Multiplace USA, International PR, 001 401 714 9698,
vieralevitt@gmail.com
Zuzana Cernakova, Executive Director, +421 907 467 598,
zuzana@34.sk
Maria Riskova, Program Coordinator,
m@13m3.sk
Peter Pankuch, PR Manager Slovakia, +421 907 151 565,
pagastan@post.sk
http://www.multiplace.sk
,
admin@multiplace.sk
---
---
---