---
Deadline:
Sun Jan 31, 2010 00:00
---
25,000 Linden Dollars for the oldest existing object in Second Life
Art project "The Last Days of Second Life" announces a competition
The literary research project "The Last Days of Second Life" will reward the finder of the oldest existing object in Second Life with
25,000 Linden Dollars.
The project is based on the extremely audacious assertion of the researcher Pitollus Swindlehurst, who boasted that he had already found the oldest object: "Coffee Table, Glass & Steel", created by Alberto Linden on Tuesday, October 8, 2002 at 11:56:19 pm. Late in the wee hours of the morning of a party, the research leader Muji Zapedzki characterized this assertion as "ridiculous". At present, she is betting all her belongings to disprove this claim.
Anyone finding an even older object in a publicly accessible zone of Second Life can participate. (In case of a grouped object, please identify its oldest part). Please send a
photo of the found objec
t together with the finder, the
slurl of the location
, and
some accompanying words
to muji[at]movement-for-account-corpses. Our team will locate and visit the site as quickly as possible, within no later than three days. If the object is still there, photo and finder will be published on the blog.
If the found object should no longer be there when the team arrives, then very, very unfortunately you're out of luck. Should several people claim finding the same object, the person whose e-mail (with photo, slurl and accompanying words) has arrived first will be regarded as the finder. To the proud owners of old objects, the same rules apply as for everyone else, and this means: If someone else has already found the object, the owner can only hope for glory, but no longer for the prize money.
The deadline is January 31, 2010 (CET), that is: January 31, 2010, 3 pm (PST).
The winner will be announced on the blog
www.the-last-days-of-second-life.de
. He or she will be able to blow the prize money from the middle of February onward.
The decision is final and no correspondence will be entered into.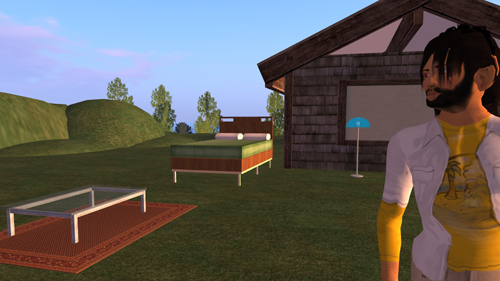 The oldest object presented in the research blog at present is: 'Coffee Table, Glass & Steel', created by Alberto Linden on Tuesday, October 8, 2002 at 11:56:19 pm. It was found by Pitollus Swindlehurst on November 16, 2009 on the island 'The Hospital'.muji zapedzki
/ susanne berkenheger
www.berkenheger.de
www.the-last-days-of-second-life.de
---
---
---