Owen Mundy is an artist, designer, and programmer who investigates public space and its relationship to data. His artwork highlights inconspicuous trends and offers tools to make hackers out of everyday users. He has an MFA in Visual Art from the University of California, San Diego and is an Assistant Professor of Art at Florida State University.


---
---
As part of this year's Transmediale festival in Berlin, media artist Johannes P. Osterhoff organized an online collaborative performance of search engine queries, simply titled, "Google." For one week, Osterhof convinced myself and 36 other participants to add a unique search method to our default web browsers so that everything we "googled"—from the personal to the mundane—became instantly visible online at google-performance.org.
The performers, who are mostly artists or technologists or both, recorded 1,322 searches over seven days. Search queries were displayed chronologically with their sequence number, date and time, participant name, and search tool used. The text of the search and participant name were also hyperlinked, so searches can be explored by keyword or participant.
Many queries reflect content from the Transmediale conference. Others reveal users engaging in play, submitting insider messages or odd one-liners. Most searches are about business as usual, as evidenced by the high number of phrases referencing programming or technology. Reading through them, by time or participant or keyword, gives the impression of a conscious stream of thought. They are a random series of words and phrases that make irrational leaps from noun to verb to sentence, only occasionally creating a complete thought when a participant repeats parts of phrases in their quest for the intended outcome.
The queries are often poetic, like these from my own stream:
xmas

 release serial ports

release serial ports arduino

chariot sidecar

pull down resistor
Others are strangely suggestive, like this snippit from Osterhof's searches:
mspro

jennie garth

chrome french download

extrem wohlgeformet google suchanfragen mit poetischer kraft

ed2000
Sometimes they are coincidental, like these which share the common keyword, "python:"
python copy file os

Monty Python New Movie

python random coin flip

python do while
The project (see also its manifesto) made ...
---
---
---
---
---
Dates:
Wed Jan 30, 2008 00:00 - Thu Jan 31, 2008
---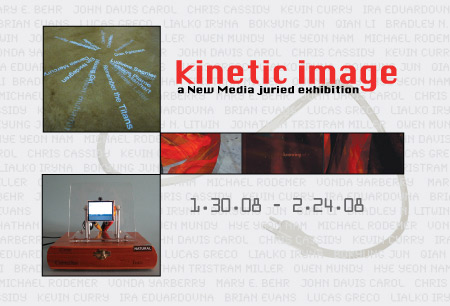 January 30 - February 24, 2008
Reception: February 14, Second Thursday Art Night 6 - 8pm
Gallery Talk: Juror, Patrick Lichty, 7pm
The Target Gallery's first exhibition of 2008, Kinetic Image, features technology-based artwork that goes beyond the static digital print. The exhibition which opens to the public on January 30 and runs through February 24 will have a reception to meet the artists and the juror on Valentine's Day, February 14 from 6-8pm. This is occurring during our monthly Second Thursday Art Night with the theme Heart Art and we are offering a gallery talk at 7pm with our juror, Patrick Lichty from Chicago.
This exhibition highlights the latest developments in New Media and the more traditional approach to kinetic sculpture. Our juror is Chicago artist Patrick Lichty who is also a digital intermedia designer, writer, professor and independent curator. Lichty's choices feature work by artists from across the country and an artist from the Ukraine. The chosen work examines art in motion, from time-based video to kinetic sculpture to work that gives the illusion of motion.
There were close to 200 entries for Lichty to choose from, and as he began this curatorial challenge he started by asking the question, 'what is a kinetic image, given that kinetic art has been around for a very long time?' He also asks the question, 'what is the nature of motion-based arts, and how is the idea of motion so inspirational to the human animal that it inspires us to create kinetic works?' He challenged himself with the quest to answer these very broad questions by choosing work that includes video and new digital forms but also including work that acknowledged a variety of content that expressed and portrayed an illusion of motion.
Most of the work in the exhibition is interactive, that is bound to engage the viewer quite literally as well as raise some eyebrows. Whether using infrared sensors, or hidden video cameras or specially written computer code to access random peoples Google keyword searches, this exhibition has playful elements that also carry important social messages. In regard to how technology has evolved so quickly and at such a pace that the paranoia of our privacy being challenged is on many people's mind and this exhibition helps to address some of those concerns. Also, the simple love affair with the moving image that seduces us and grabs our attention using sound, color, motion and imagery to cast its spell.
Lichty's choices for this exhibition were right on target and addressed the questions that he had hoped to raise very succinctly. This is an exciting time in the art world and the Target Gallery is thrilled to be able to highlight a small sampling of what is happening now on the art scene. I hope you take your time to soak in all that this exhibit has to offer and allow yourself a moment to sit back, relax, and enjoy the show.
Target Gallery is the national exhibit space of the Torpedo Factory Art Center, displaying artwork in all media from artists across the United States and abroad. Located on the ground floor of the Torpedo Factory Art Center, Target Gallery is open to the public Wednesday through Sunday, 12 to 5 pm and other times by appointment.
targetgallery@torpedofactory.org
---
---
---