---
---
www.iwanttobeamachine.com (2008) by Angelo Plessas.
Originally posted on VVORK by Rhizome
---
---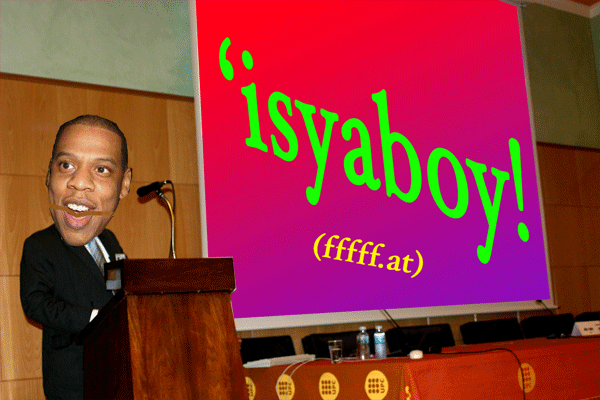 Brooklyn-based media moguls Shawn Carter and f@ bring you The Power Point Album. The latest in a long string of black album remixes, this one brought to you by the fffffull fffffat crew.

View below:
- YTMD version
- Slideshow version
Download:
Open Office Impress:
ppt_album_odp.zip
(5.8 mb)
Power Point:
ppt_album_ppt.zip
(8.1 mb)
All props and respect to the originators:
http://www.jamphat.com/rap/
Made in
Linux
using
OpenOffice
.
….'isyaboy!
Originally posted on F.A.T. by evan
---
---
Hats, a new work by Dallas-based artist, hacker and musician Paul Slocum, is a take on "the artist in his studio"- a situation so frequently addressed that it is almost a rich art historical genre in its own right. In the minute long snapshot of his computer's desktop, we see Slocum at work (via his own webcam), focused on on two photos of baseball caps on a chair and a YouTube confessional of a young man musing on his sexual experience. Albeit radically different than Rembrandt's or Johannes Vermeer's portraits of their studio practice, through its multiple layers Hats mines the same territory of process, source material, and artistic identity. In another new work, the Pi Music Generator, Slocum developed a mathematical algorithm that transcribes the infinite digits of Pi into an equally infinite house music track. Slocum assures that if the hardware is properly migrated in the coming years (and his mathematical calculations are correct), his composition will play forever. These works are only two in a group that will be seen in his upcoming solo show More House at Dunn and Brown Contemporary in Dallas. In addition to being an artist, Slocum, along with co-owner Lauren Gray, runs renowned Dallas gallery And/Or, which has continuously hosted strong and progressive media art programming over the past two years. Engaged with the vast terrains of pop and computer culture, Slocum consistently and successfully blends hardware, software and raw source materials to create and curate a distinct continuously expanding body of work. - Caitlin Jones

Image: Paul Slocum, Hats, 2007
---
---


Email became an integral part of my life in 1998. Like many people, I have archived all of my email with the hope of someday revisiting my past. I am interested in revealing the innumerable relationships between me, my schoolmates, work-mates, friends and family. This could not readily be accomplished by reading each of my 60,000 emails one-by-one. Instead, I created My Map, a relational map and alternative self portrait. My Map is a piece of custom designed software capable of rendering the relationships between myself and individuals in my address book by examining the TO:, FROM:, and CC: fields of every email in my email archive. The intensity of the relationship is determined by the intensity of the line. My Map allows me to explore different relational groupings and periods of time, revealing the temporal ebbs and flows in various relationships. In this way, My Map is a veritable self-portrait, a reflection of my associations and a way to locate myself.


My Map from Christopher Baker on Vimeo.
---
---

Eyebeam, 540 W. 21st St. (between 10th Ave. and 11th Ave.), NYC

January will be devoted to setting the green scene with presentations of the winning submissions of the two-part Eco-Vis Challenge, initiated by Eyebeam's Sustainability Research Group. Featuring winners of each of the two Eco-Vis categories (icons and data visualizations), the installation will be an opportunity for participants and visitors to see the projects and learn how and why they were chosen. Going one step further, the display will reveal the workings of Eyebeam's Sustainability Research Group, and their process in designing the challenge, from initial inspiration through completion. The preview of winning projects, selected from a pool of 139 proposals, will be followed by our next major exhibition on sustainability, FEEDBACK, opening March 13.

[CONTINUED]

Projects from Eyebeam's Eco-Vis Challenge, a collaborative initiative between artists and technologists focused on tracking and visualizing environmental data, will be on display during the month of January. The installation is one part of "Beyond Light Bulbs", a programming series based around Eyebeam's Sustainability Research Group.
---
---


"The beginning of an unfinished sentence" reads No.47 (2007) by Pavel Buchler, one of many contributions to the ongoing online exhibition Why + Wherefore. The sentence fragment succinctly captures the premise of the show, which explores the tension between an art work's initial conception and completion. Curators Summer Guthery, Lumi Tan, and Nicholas Weist invited a diverse group of artists, practicing both online and off, to submit entries around the process of beginning a piece. With the involvement of over 50 artists, the interpretations of "beginning" vary widely. The website deceptively divides separate areas for "Works" and "Project Beginnings + Proposals", after some navigation, however, it becomes quite clear that the entries could easily translate to either category. Filed as a "Work", multimedia installation artist Assume Vivid Astro Focus submitted a series of long and elaborate to do lists. As a list of unfulfilled, amusing intentions (see: "13. Buy urgent: "The Doors of Perception and Heaven and Hell" by Aldous Huxley"), the To Do Lists (2007) demonstrate how quickly and powerfully ideas can emerge and then get lost. Artist Colby Bird's Dave and Tim (2007), also filed as a "Work", opens with the typed lyrics of Lil Jon and the Eastside Boys "Neva Eva" and then rotates through an unending loop of found digital images of keg parties, speaker systems, hallways, cats, teenagers, etc. Framed by an nondescript magazine advertisement, Dave and Tim uses the internet's store of visual detritus to present a bleak portrait of American life marked by consumerism. Artist Bard Ask's Global Perspective (2007), filed as a "Proposal", opens dramatically on a satellite image of the earth, and progressively narrows in on the state of Florida. The dramatic score heightens suspense, and the video closely recalls the opening sequence of a doomsday thriller. Florida ...
---
---
*****
X-com


13.01.2008, 11:05pm - 11:45 pm (CET)
Kunstradio-Radiokunst
http://kunstradio.at

by MACHFELD (aka Michael Mastrototaro & Sabine Maier)
as part of the media.art.exhibition JOYES,
medien.kunstlabor Graz (Kunsthaus Graz, 06.12.07-13.01.08)

http://www.machfeld.net/joyes


If you are not in austria, get the audio-live-broadcast online:
http://oe1.orf.at
(Webradio)






X-com is an acoustic map of Johannesburg that was developed by MACHFELD (aka Michael Mastrototaro & Sabine Maier) during their stay in South Africa in 2007. Together with students of the Cityvarsity Johannesburg and of University of Wittwatersrand Johannesburg, the artists explored the multicultural identification of the city of Johannesburg. An approach was to investigate in how far sounds are subject to cultural conditions.

MACHFELD apply old, analogue recording devices as well as new, digital ones in order to develop a cross-continental space of communication for their piece.

LINKS:

http://web.wits.ac.za/ (University of Witwatersrand, Johannesburg)

http://www.cityvarsity.co.za/ (Cityvarsity, Johannesburg)

http://kunstradio.at ( Kunstradio-Radiokunst)


[CONTINUED]
---
---
Flow 5.0 is an interactive art installation consisting of hundreds of ventilators, each being controlled individually by various sensors.

Microphones and other sensors control the direction and speed of the fans as visitors pass through a corridor. The fans form the walls of the corridor, and they remain off until a visitor moves in front of them.


Daan Roosegaarde, the creator of Flow 5.0, describes it as an interactive landscape made out of hundreds of ventilators which reacts on your sound and motion. By walking and interacting the visitors creates an illusive landscape of transparencies and artificial wind.

Further reading on Studio Roosegaarde's website.

Also check out the video of the installation.

[via digitalexperience.dk]
---
---
Adam has an interesting query/blogpost about "what do you feel are the most significant contemporary developments in urban informatics? The most resonant projects, the most powerful interventions, the scariest precedents?". That's quite an important question that I try to ask myself for a while. Since I have not definite answer, I tried to pick up some examples I find relevant to get a messy list of "urban computing" projects:
- Location-based services: be they single-user (navigational devices such as personal GPS navigator) and ones who can have a social layer (see DASH for instance) but also mobile social software
- Urban screens and interactive billboards (see more about this here)…. that can display representations which allow to make explicit invisible or implicit phenomena: blogging pigeon, Real Time Rome (among other Senseable City projects), AIR, undersound or Tripwire, etc.)
- open mapping projects (like open street map) and other geospatial web applications (see Jo Walsh's stuff, especially here piece about MUDlondon) a la place-based annotations (Urban tapestries among lots of others).
- Geographical Information Systems (./ although there would be a lot to say about this)
- pervasive games (no list about this here but you know what I am talking about)
- Identification systems such as these RFID cards you now have in most occidental cities in subways.
- Defensive Space can also be supported by technologies: not only CCTV, Vsee for example the mosquito sounds to avoid teenagers loitering
- Lazarus/zombie devices
- infrastructures can also count: think about wiring, server farms or gigantic telecom hotels.
But of course, it's a bit awkward to limit oneself to purely urban/contextualized projects: a cell phone, web mash-ups, Twitter or whistles might well count too.
This is really non-exhaustive and raw list, there are multiple points of entries that can be used to go beyond this ...
Partial list of "urban computing" projects by writer and researcher Nicolas Nova of Pasta&Vinegar, in response to writer Adam Greenfield's question, "what do you feel are the most significant contemporary developments in urban informatics? The most resonant projects, the most powerful interventions, the scariest precedents?". Be sure to read the comments section in both blogs. This topic is certainly applicable and important to the work and practice of many Rhizome readers.
Originally posted on Pasta&Vinegar by Nicolas Nova
---
---

Artists and curators are increasingly using a range of technologies to document global warming's rapid transformation of the planet. Painter Joy Garnett's blog StrangeWeather.info and Shane Brennan's curated weblog New Climates both provide a clearing-house for information about art projects related to environmental issues. This past fall, non-profit organization Electronic Music Foundation's environmental sound art festival Ear to the Earth brought together artists and musicians from the world over to produce and show projects on the subject. Undeniably, the art community is acting in response to an ever-greater urgency to acknowledge and appreciate the fleeting visual and audio experiences of the natural world. For years, digital media artist Andrea Polli has centered her practice around environmental concerns with such projects as Airlight Taipei (2006) and Atmospherics/Weather Works (2004) (included in the Rhizome Artbase). During December and January, Polli traveled to Antarctica to capture the quickly disappearing beauty of the region through sound and video. The trip is a residency funded by the National Science Foundation Antarctic Artists and Writers Program, and it will allow her to work alongside the scientists from the McMurdo Dry Valleys Long Term Ecological Research Project. Polli created the blog 90degreesesouth.org to report and share her recordings and reflections. Visitors to the site can listen to Polli's field recordings of melting glaciers and icebergs, as well as take in a number of instructive audio interviews with notable climatologists and meteorologists, such as co-recipient of the 2007 Nobel Peace Prize Dr. Andreas Fischlin, meteorologist Dr. Matt Lazzara of University of Wisconsin, Dr. Rick Aster, among many others. 90degreessouth.org provides a rare and informative artist's perspective on the day-to-day activities of scientists working in a spectacular and often strenuous environment. - Ceci Moss


---
---