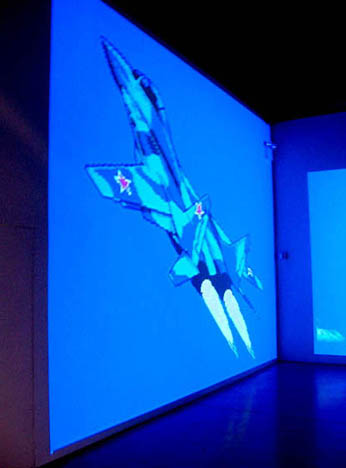 Saturday, Jan. 28 is the last day of "Breaking and Entering: Art and the Videogame" at PaceWildenstein. Planning to go later today; have held off for two reasons: (1) really more interested in videogames for the music and the visual shortcuts than thinking about them as an art movement; and (2) For blue chip PaceWildenstein, final resting place for nearly-dead canonical artists, to jump on this particular bandwagon is a bit like watching your pot-bellied, combed-over high school chemistry teacher "krumping."

But I want to see the Cory Arcangel installation above: that image looks drop dead gorgeous to me, and I can't believe the artnet reviewer's mildly sniping take on this.
The normally dynamic Cory Arcangel offers a large, static projection of a video game fighter jet and clouds to complement a primitive "found video game" displayed on a small portable laptop. Titled Bomb Iraq, the game depicts a crudely drawn bomb that the user can bring nearer to an outline of Iraq by pressing the arrow keys. Its inclusion is fine as a document of America's meat-headed relation to the Middle East, but does nothing interesting with it -- except to prove that video games can be used as found objects just like everything else.
"A static projection of a video and clouds"? Hello, mural painting? James Rosenquist's
F-111
, maybe? And would it be worth mentioning that the laptop game, originally found on a Mac in a garage sale (see GIF below for a taste), dates to the first Gulf War? That's fifteen years of meatheadedness! Arcangel's pretty post-found object, I'd say. Is this bit of brain-damaged DIY propaganda really in the same category as the arch, Francophone disquisition of say, a Duchamp snow shovel? Perhaps, considered with the wall mural, it's ...