in absentia - a new web-based writing project by J.R. Carpenter with guest authors: Lance Blomgren, Andy Brown, Daniel Canty, Alexis OHara and Colette Tougas. http://luckysoap.com/inabsentia

in absentia is presented by DARE-DARE Centre de diffusion dart multidisciplinaire de Montral, located in Montréal in a park with no name between Saint-Laurent and Clark, between Arcade and the Rosemont/Van Horne overpass. http://dare-dare.org

The launch party will take place on June 24th 5-11PM in the park with no name. This event is free and open to the public. There will be DJs and a cash bar and a possibly a laser light show if we find the time.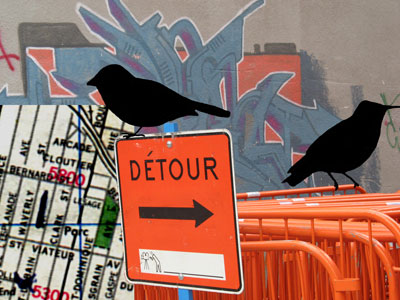 in absentia is a web-based writing project that addresses issues of gentrification and its erasures in the Mile End neighbourhood of Montreal. In recent years many long-time low-income neighbours being forced out of Mile End by gentrification. So far fiction is the best way I've found to give voice these disappeared neighbours, and the web is the best place I've found to situate their stories. Our stories. My building is for sale; my family may be next. Faced with imminent eviction I've begun to write as if I'm no longer here, about a Mile End that is no longer here. By manipulating the Google Maps API, I am able to populate "real" satellite images of my neighbourhood with "fictional" characters and events. in absentia is a web "site" haunted by the stories of former residents of Mile End, a slightly fantastical world, a shared memory of the neighbourhood as it never really was but as it could have been.

The project will launch in Montreal in the Mile End's parc sans nom on June 24, 2008 from 5-11PM. New stories will continue to be added until November 30, 2008.

The launch of in absentia marks the end of DARE-DARE's Dis/location: projet d'articulation urbaine. On July 1st, DARE-DARE's blue trailer will leave the vacant lot that was its home for two years and move towards Montréal's downtown, in Cabot Square, corner Sainte-Catherine and Atwater. The launch of in absentia will be the last event held in the Mile End's parc sans nom, so come on out and help make it a great one.

For more information please visit: http://dare-dare.org
Link:
http://luckysoap.com/inabsentia